Experience the healing power of sound and crystals
One on One Healing Sessions
One on one consultations are powerful healing sessions incorporating the use of sound vibrational instruments and healing crystals.
Michelle works with the Tibetan Singing Bowls, Chakra Energy Chimes, Tuning Forks and various healing crystals during a one on one session.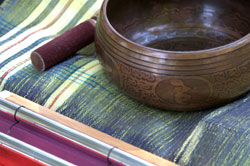 The harmonics of the instruments surround you in a cocoon of sound. Each specific tone corresponds to a specific area of the body. The body resonates with the vibrations which work to dissolve any energy blockages and assist with the rebalance of chakras and healing.
Healing Crystals and Gemstones are one of the most beautiful, mystical and profound "energy medicine" tools, which have been used for centuries throughout all cultures, religions and empires. Crystals bring amazing benefits to the healing arena and are used during the one on one healing sessions.
Benefits
The aim of a one on one session is to rebalance the body and chakras using the tools of sound and the power of the healing crystals. A session that is healing for the body and soothing for the soul.
The session will instigate cellular release, calm the nervous system and help clear the mind.
You will leave feeling de-stressed, re-energized, rejuvenated, calm with a sense of inner balance and harmony.
Private Healing Sessions
Day
Time
Location
Monday to Sunday
By Appointment
Healing Room, Nollamara
Monday
(1st Monday of Month)
2pm to 7pm
Walking on Clouds Wellness Centre
Level 1, 109 Murray Street, Perth
Bookings
To make a booking or for additional information, please contact:
Michelle Heasman
Phone Number: 0409 988 601
Email: info@harmonygongs.com.au