Experience the
Power of the Gongs
Harmony Gongs was established by Michelle Heasman who lives in Perth, Western Australia.
Michelle practices in the area of meditation & relaxation using two beautiful symphonic gongs, Tibetan singing bowls, chakra energy chimes and other vibrational sound instruments.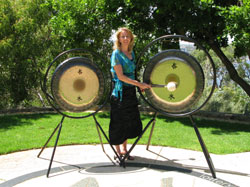 Benefits of a session include feeling:
Rejuvenated
Re-energised
De-stressed
Relaxed
State of pure bliss
Michelle has established Harmony Gongs with her main aim of providing a moment of stillness and peace into the lives of her clients. In the long term, the sessions can be used as a building platform for life balance and to help boost wellbeing.
Harmony Gongs runs Sound Meditation and workshops at a number of locations around the Perth Metropolitan area plus provides sessions for private groups and corporate clients.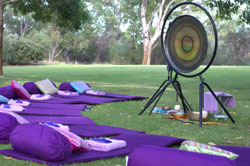 Sessions:
Gongs, Chimes and Tibetan Bowls
Gongs and Didgeridoo
Crystal Bowls
Walking Mandala Meditation
Dru Yoga & Meditation Workshops
Harmony Gongs welcomes everyone to experience the sound, the stillness and deep relaxation.