Experience a party or event with a real difference
Do you want your family, friends or colleagues to walk away from an event having experienced something very unique and different?
Guaranteed to be a real talking point.
The Experience
The Night Magic Experience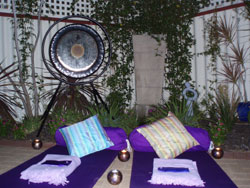 Image you and your friends in a beautiful garden, the moon in the night sky, the stars glistening in the background and the gentle flicker of candlelight as you relax listening to the beautiful sounds of symphonic gongs, Tibetan singing bowls & Chakra energy chimes.
The sounds will mesmerize your senses and allow you to float into a deep relaxation.
A night of pure indulgence, bliss and healing.
The Back to Nature Experience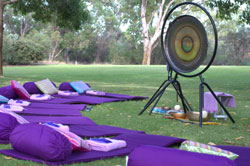 Imagine laying on a comfortable meditation mat on the lush green lawn, surrounded by beautiful green shady trees, the sounds of birds singing in the background as you relax on your journey of sound, listening to the symphonic gongs, singing bowls and chimes.
It's the perfect experience to connect you to mother nature and bring balance to your inner body.
The Soothing Water Experience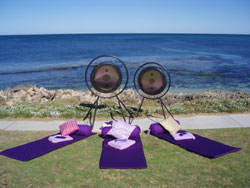 Picture the tranquil blue ocean as a backdrop to this remarkable soothing experience. The sounds of the water and the waves in the background as you relax and unwind, allowing your body to be naturally harmonized and energized from the healing sounds of the symphonic gongs, bowls and chimes.
An experience guaranteed to recharge your energy levels and sooth your soul.
The above experiences are just a sample of what is available.
The sessions are tailor made for each event.
Inspiration and Ideas
Do you need some inspiration or ideas on the type of experiences?
Gong Meditation and Relaxation Session
Crystal Sound Meditation Session
Full and New Moon sessions
Benefits
A party or event with a real difference.
Your guests will leave feeling de-stressed, relaxed, in a state of pure bliss.
Re-energized, calm and still.
Can it get much better than this?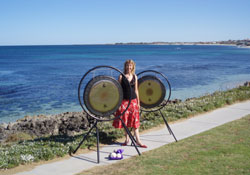 Equipment
All equipment is provided by Harmony Gongs.
Each person is provided with a comfortable meditation mat, cushion, bolster and blanket.
Private Group Bookings — Number of People per Session
Minimum Group Size — 6 people per session
Maximum Group Size — 20 people per session
Price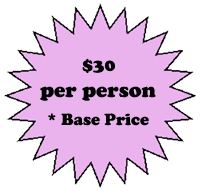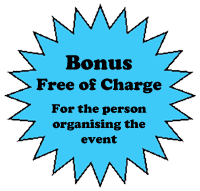 The price is subject to the type of session to be held, location and time duration.
The base price of $30 per person is based on a one hour gong and meditation session, in the Perth Metropolitan area (30km radius from the Perth CBD) at a private house or facility.
Additional charges may apply for specific park/beach application permits.
Bonus — Free of Charge for the person organising the event. This offer is limited to one person free of charge per event.
Bookings
To make a booking or for additional information, please contact:
Michelle Heasman
Phone Number: 0409 988 601
Email: info@harmonygongs.com.au