Looking for a unique experience for a corporate event or wellness program
Do you want your work colleagues or conference attendees to walk away from an event having experienced something very unique and different?
The Experience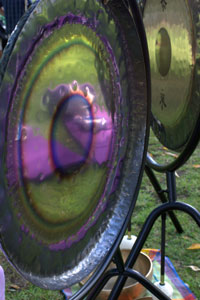 The experience is guaranteed to recharge energy levels and rejuvenate the mind and body.
The session is a journey of sound. People relax and unwind listening to the beautiful sounds of the symphonic gongs, Tibetan singing bowls and chakra energy chimes.
The sounds will mesmerize senses and allow people to float into a deep relaxation.
It's the perfect hour for people to slip away from their busy lifestyles and help reduce stress levels.
The session is perfect for corporate wellness programs and is a different tool that can be incorporated within a day planning session or corporate program/seminar. Colleagues will feel rejuvenated and eager and ready to jump into the next segment of the program or work day.
The above experience is just a sample of what is available.
The sessions are tailor made for each event.
The normal time for a session is one hour.
However, this duration can be changed to suit the needs of the organization and timetable.
Benefits
Your colleagues will leave feeling de-stressed, relaxed, re-energised, rejuvenated, calm, still and in a state of pure bliss.
A session is guaranteed to boost wellbeing and is beneficial to the whole body system.
Plus with the added bonus of a unique and unforgettable experience.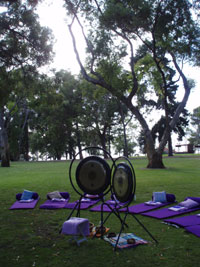 Equipment
All equipment is provided by Harmony Gongs.
Each person is provided with a comfortable meditation mat, cushion, bolster and blanket.
Facility
Venue is to be provided by the client.
Alternatively a venue can be arranged by Harmony Gongs at an additional cost.
Plus additional options to hold the session at a park or beach (subject to permit approval).
Private Group Bookings — Number of People per Session
Minimum Group Size — 6 people per session
Maximum Group Size — 20 people per session
Option for multiple sessions to be run on a particular day.
Price
The price is subject to the type of session to be held, location and total number of people attending a session.
A discount is provided for bookings incorporating multiple or regular sessions.
Bookings
To make a booking or for additional information, please contact:
Michelle Heasman
Phone Number: 0409 988 601
Email: info@harmonygongs.com.au